Hey! Guess what!? I'm officially a contributing writer over at...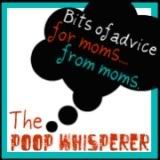 I'm their "Home Blogger". I even have a bio on their "Who" page.
No. Really....Stop laughing!! I can be homey :)
Anyways, come over and visit me. And if you follow The Poop Whisperer you'll be sure to see all my ghetto Martha Stewart awesomeness!